Lynnwood Window Cleaning Service
Advantages of Getting Your Windows Professionally Cleaned
Window cleaning is a time-consuming task that may be hard to fit into your busy schedule. Using a professional window washing company has several advantages:
Improve natural lighting in your home or building.

A dirty window prevents sunlight from entering your property. Using exterior window cleaning services ensures that natural light can enter through your windows so you can reduce your need for electric lights.

Create an impressive exterior for commercial buildings.

Your commercial building has the ability to reflect the quality of your business. A company with a vibrant exterior and clean windows is more impressive to potential customers and employees than a dingy building.

Keep your home windows clean and bright.

You already have a long list of chores to keep up with. Finding a window cleaning company to clean outside is an easy way to check off a task while ensuring that your property's windows will be clean and bright.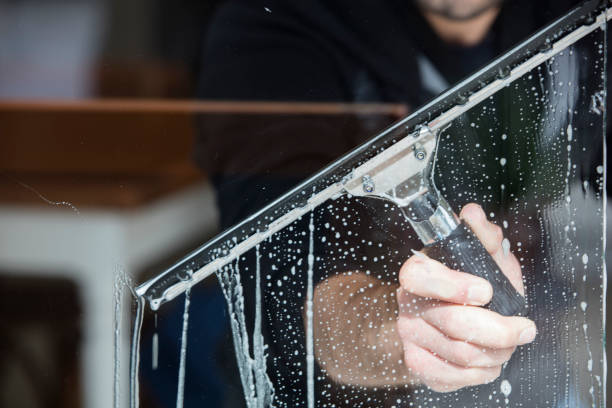 Other Services
Lynnwood Exterior Cleaning
Lynnwood Window Cleaning
Residential and Commercial Window Cleaning Lynnwood
Evergreen Window Cleaning knows what it takes to provide a professional window wash service from homes to expansive commercial buildings.
Residential Window Cleaning
Residential windows are unique to each home. Our experts pay special attention to home windows by taking extra care during the cleaning process.
Cleaning the exterior of your windows when they aren't on the first floor can be a dangerous and challenging task to handle on your own. Evergreen Window Cleaning professionals have the tools needed to take care of every window in your house safely and effectively.
Commercial Window Cleaning
Every physical aspect of your commercial building can play a part in your company's reputation. Hiring professional window cleaners can enhance the vibrance of your building's exterior and encourage natural light.
Window Cleaning Process
Professional window washing uses more than your typical glass cleaner. Our professional window services easily removes stubborn dirt from your interior and exterior windows. Interior windows, especially residential ones, require delicate squeegee techniques to protect the integrity of the glass.
Exterior windows are typically dirtier than exterior ones and may require a more robust service and specialized technique. Our experts use soap and water formulas and steel wool to remove stubborn dirt from the glass.
Following each cleaning, our cleaning professionals perform a streak check and final touch-ups with a cloth. Once we know the window is spotless, we replace screens if we removed one to clean.
Looking for a Professional Window Cleaning Company in Lynnwood?
Why add cleaning your windows into your busy schedule when you can let the professionals do it? Evergreen Window Cleaning can remove dirt and debris from your windows in a professional and friendly manner. We have the experience necessary to tackle any window and restore vibrance to your residential or commercial building.
Call Evergreen Window Cleaning today at 206-401-7557 for professional window cleaning in Lynnwood and the surrounding areas.