Gutter Cleaning Services Redmond
Your gutters collect a lot of debris from leaves to insects, and keeping them clean is a time-consuming chore that may seem daunting. That's where the Evergreen Window Cleaning team comes in.
Cleaning out your gutters may seem like a simple task, but you are more likely to face accidents without the proper tools. Calling your Redmond gutter cleaning service team to clean out your gutters frees up your time and ensures that your home remains safe and functional.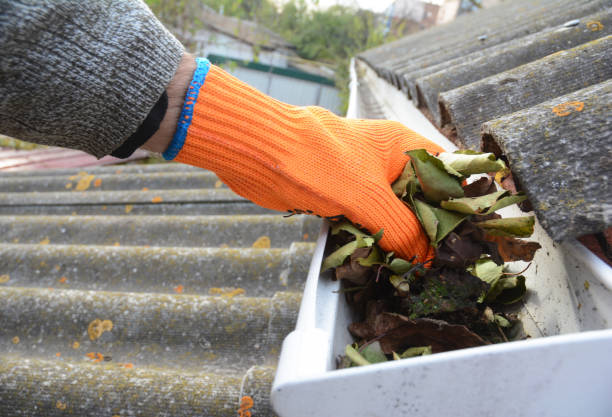 Redmond Gutter Cleaners
The team at Evergreen Window Cleaners dedicate their time to perfecting their skills. When one of our experts shows up to clean your gutters, we make sure you know exactly what to expect.
When you call a roof gutter cleaner, your roof will receive a thorough inspection to determine the best cleaning procedure. Our professionals then use their specialized tools and techniques to remove debris from your gutters effectively.
Other Services
Redmond Exterior Cleaning
Redmond Gutter Cleaning
Redmond Roof Cleaning
Redmond Roof Moss Removal
Redmond House Washing
Professional Gutter Cleaners in Redmond, WA
Overflowing gutters are a common culprit for water damage in a home. An overflow of leaves, bugs, and other debris clog gutters and prevent proper drainage. Regularly cleaning your gutters is a simple way to prevent clogged gutters and potential water damage.
Finding a gutter cleaning company to clean your roof is a much safer alternative to doing it yourself. Our professional gutter cleaners use state-of-the-art techniques that ensure both safety and an effective clean. Our experts use fall protection tools and specialized ladders to enhance safety, even on uneven ground.
Our safety techniques and specially designed tools effectively unclog gutters so that you don't have to add it to your to-do list.
Common Issues Gutter Cleaning Pros Can Help You
What are the problems you can get with clogged, unclean, or dirty gutters? A Redmond gutter cleaning service can help prevent the following issues:
Cracked Foundations
Excess water around your home can weaken its structural integrity. Frost-heave is a common condition that refers to when water freezes around your home's foundation, leading to significant cracks.
Insect Breeding Ground
Water is a hot spot for many types of insects around your home. Mosquitos, wasps, and termites love to gather in clogged gutters and find their way into your house.
Basement Flooding
Flooding in the basement is the primary cause of home water damage. Your gutters have the critical task of redirecting rainwater away from your home. A clogged gutter is unable to drain the water properly, leading to basement floods.
Call for Redmond Gutter Cleaners!
Your gutters are a small part of your home with a big responsibility. When they overfill, you may suddenly face more significant problems. The best way to maintain the proper function of your gutters is to have a gutter cleaning business unclog and revive your home's exterior drainage system.
The team at Evergreen Window Cleaning knows how to perform a quality gutter clean in minimal time with maximum results. Call us today at 206-401-7557 to schedule your Redmond gutter cleaning service!